Meet Eloise, our new Key Account Development Manager
2 December 2016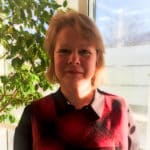 Mobilane has appointed Eloise Littlejohn to the role of Key Account Development Manager for the UK. Eloise will have responsibility for client management and developing new business.
Eloise brings with her 10 years' experience at Ambius (part of Rentokil Initial plc) where she rose to the position of National Account Manager.
In her new role at Mobilane, Eloise will be responsible for existing clients account management and relationship building, and making sure that our customers know about the entire Mobilane product range. She will also deliver CPD training for architects to enable them to specify products and systems, as well as looking for new distributors, installers and partners and helping them through the processes of specification and installation.
"I want Mobilane customers to see me as somebody who can help them, and who can deliver even better customer service," explained Eloise. "I'm here to help and I'm looking forward to meeting as many as possible at trade shows and events, as well as when I'm out and about on the road."
Speaking about the appointment, Paul Garlick, National Sales Manager for Mobilane said "We are delighted to have Eloise join the Mobilane UK team. Not only does she bring a wealth of experience in our marketplace, she also has the skills, drive and personality to help take Mobilane's customer service to the next level.
"Eloise will have a key role in building awareness of our systems and developing our business. Mobilane has become established as a market leader and innovator in living systems, and with the opening of our new UK production facility for our Green Screens, this is a very exciting time for the company."
For further information on Mobilane systems visit www.mobilane.co.uk. Follow us on Twitter @Mobilane