LivePanel PACK
All-in-one green wall system
outdoor
indoor
LivePanel PACK is a living green wall system available in three standard sizes. Specifically developed for smaller walls, this all-in-one living green wall differs from other wall systems in that its installation and function requires no electricity, water protection, drainage or irrigation facility. Its watering is easily managed by hand.
LivePanel PACK is available as a ready-made complete green wall package in three sizes.
LivePanel PACK 2×3            LivePanel PACK 3×2            LivePanel PACK 6×4
Dimensions: 0.87 x 1.57m    Dimensions: 1.27 x 1.09m      Dimensions: 2.48 x 2.06m
Surface Area: 1.37m²            Surface Area: 1.38m²              Surface Area: 5.10m²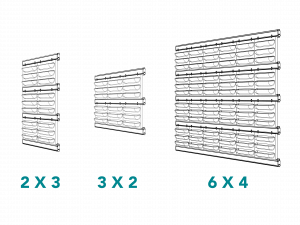 LivePanel PACK can be affixed to new or old walls and can be installed in interior or outdoor vertical environments. The PACK is ready for installation, straight from the box. Installation time is approximately 2 hours and then your LivePanel PACK living green wall system is ready for planting.
Find our full product specifications in our 'Knowledge Centre' or use the National Building Specification NBSPlus
 "PACK" & go!
Click and drag to rotate. Click on plus-signs to get more info.
Benefits
A healthy working, learning, or living environment
Aesthetic pleasing
An increase in productivity and creativity
Has a small footprint
A pleasing ambience
Features
A complete green wall system in one package
Exchangeable plant cassettes for a dynamic view
A water supply to last 1-2 weeks
Works without electricity, water connection, water drainage or irrigation system
Short installation time
Smart and silent water level indicators
Suitable for use indoors and outdoors
Fully recyclable
View accessories